NASCAR
MY Cars and Trucks!
Click a picture for more info (opens new window)
---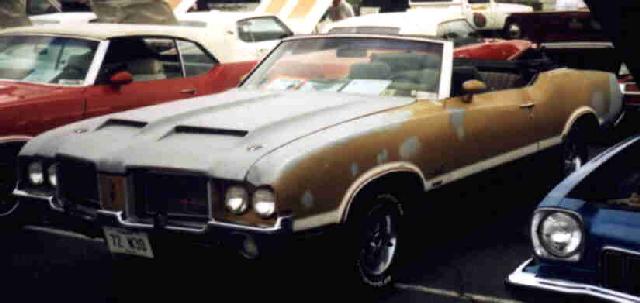 69
1972 Oldsmobile 442 W-30 Convertible. I've owned this car since 1981. 1 of 80 automatic W-30 convertibles built in '72. (33 manual transmission versions; 113 total W-30 droptops in '72). Saturn Gold with white strips and saddle (YAK) interior. I built the 455 over 10 years ago. It has 1970 .030 over forged TRW pistons, a JM 22-25 hydraulic cam and adjustable pushrods. It has the stock W-455 Intake and Qjet, and a points type distributor. It has an 11" A-1 convertor and a TH400, and a 1970 3.42 O type 12 bolt rear axle. (an 8.5" 10 bolt 3.73 was original but it exploded one day at the track) Headers are connected to the stock size tiny pipes (2 1/4" headpipes and 2" tailpipes). A Carter 4594 electric pump at the rear pushes fuel to the stock mechanical pump. It's best pass ever was 13.31 / 101 on swapmeet L60-15 bias plies, and good enough to be tossed from the track due to no rollbar (IHRA requires rollbars in convertibles below 13.49)
---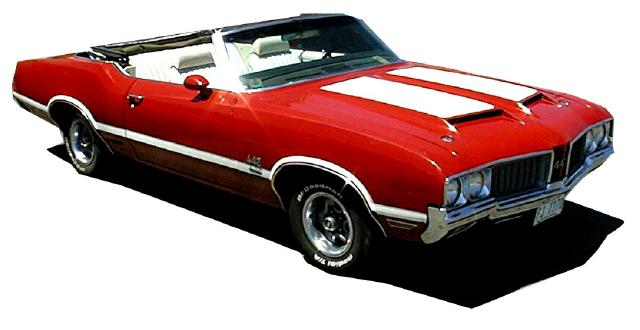 6969
1970 Oldsmobile 442 W-30 Convertible. 1 of 96 4-speed W-30 convertibles built in '70. Matador Red, white top, interior, stripes. 3.42 rear. Originally manual steering, it now has PS.
---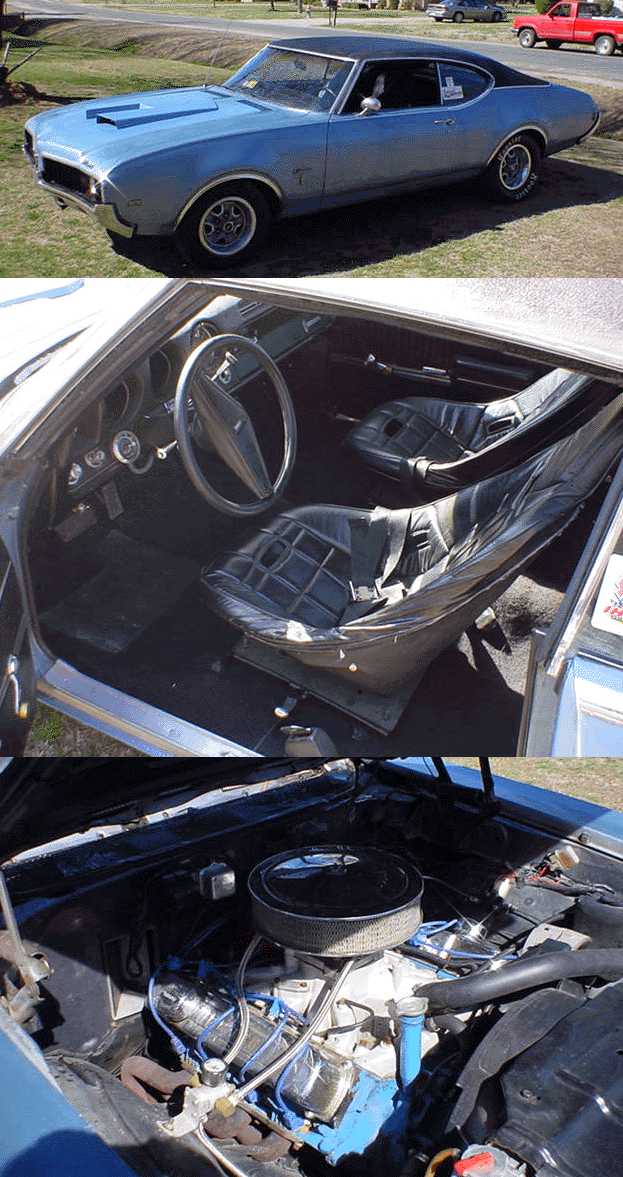 1969 Oldsmobile Cutlass S. Currently has a 455 with a hyd cam. Torker. 800 Holley, TH350, 3.73 rear, and 3" exhaust. Best pass so far is a 12.77 at 105 MPH. Lots of changes are planned soon.
---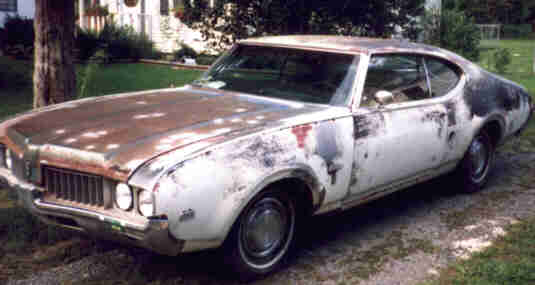 1969 Oldsmobile Cutlass S Holiday Coupe. 350 4 barrel and TH350. 2.73 Chevy 12-bolt (This is a Candian built car). Buckets and console. PS, AC.
---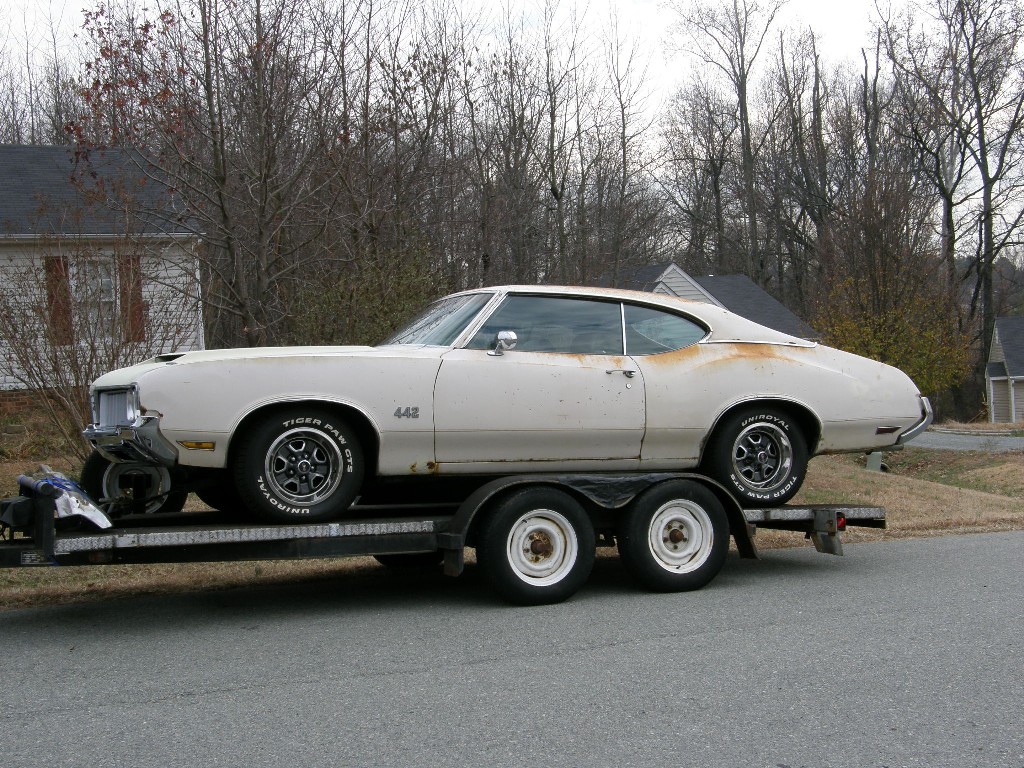 1970 Oldsmobile 442 W25 Holiday Coupe. 455 4 barrel and TH400. 4.33 rear gears (!!). Bamboo and gold interior. Buckets and console. PS and Power Disc brakes. Still wearing the original paint which needs redoing. A/C componets need to be reinstalled.
---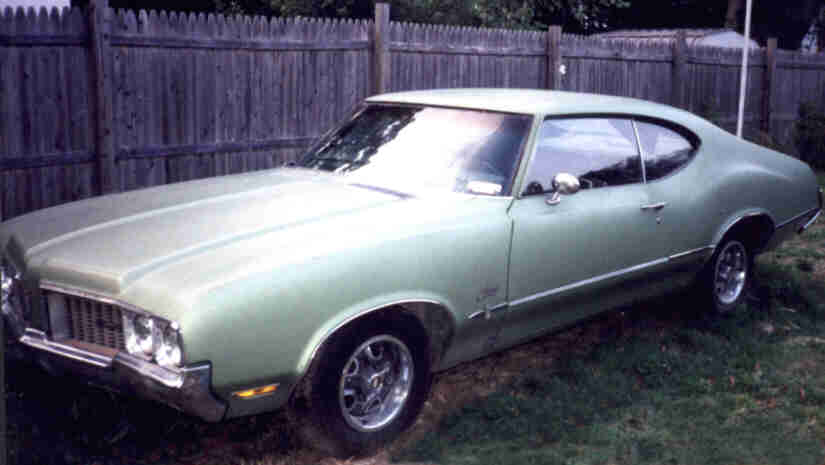 1970 Oldsmobile Cutlass S Holiday Coupe. 350 2V and single exhaust. Column shift TH350 and 2.56 rear. PS, AC, manual drum brakes.
---
1970 Oldsmobile Cutlass S Sport Coupe. Popularly known as a 'post model'. (1966 Toronado in the back)
---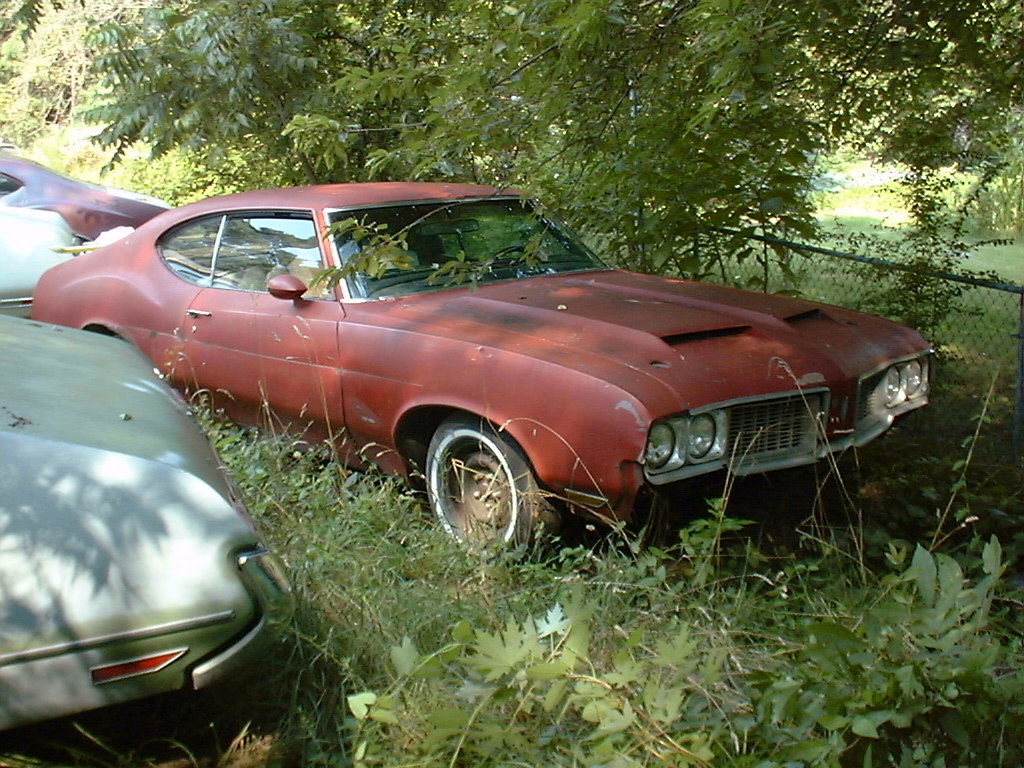 1970 Oldsmobile Cutlass S W-31 Holiday Coupe. Originally Sherwood Green with Black Stripes. Buckets, sport steering wheel, sport mirrors, console, Hurst Dual gate shifter and the standard-for-W31 3.91 rear axle.
---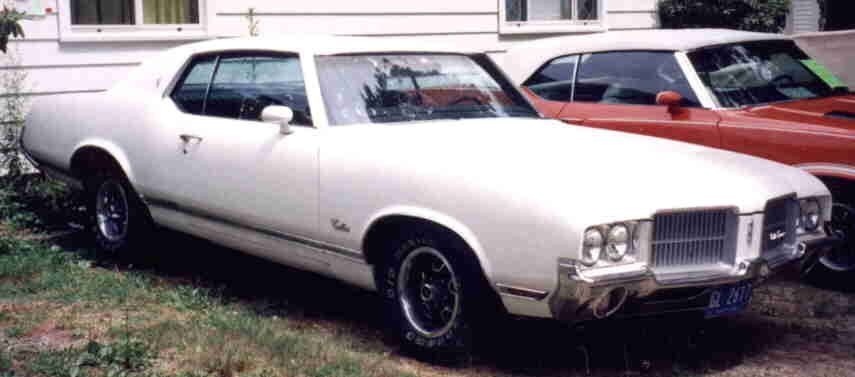 1971 Oldsmobile Cutlass Supreme Hardtop. 350 4V, Column shift TH350, 3.08 rear and dual exhaust. PS, PDB, and AC. Originally had SSI wheels. FE2 sport suspension, sport mirrors and no vinyl top suggest a special order car.
---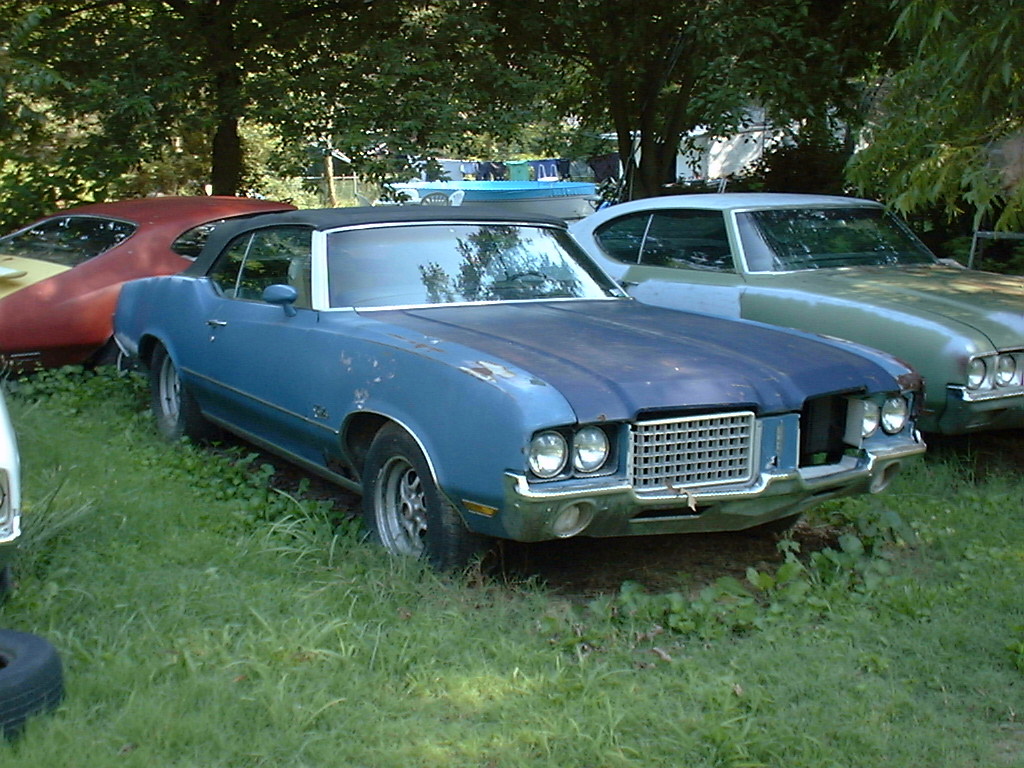 1972 Oldsmobile Cutlass Supreme Convertible. 350 4V, TH350, and 2.73 rear. PS, PDB, AC. The last owner added: Mild cam, headers and dual exhaust, dual gate shifter (in console), rallye pack (tach/oil/water gauges), rear sway bar. I do have 2 good fenders, a good hood, and NOS grilles for this car. ('70 W-31 in the background)
---
1965 Oldsmobile Delta 88 Holiday Coupe. 425 2 barrel and single exhaust, but it is the optional high compression version (10.25:1). AC, PS and 4 wheel power drum brakes. Speed Minder speedometer.
---
1966 Oldsmobile Toronado Deluxe. This was the first American front wheel drive car since the Cord of the 1930s. The 425 4V puts out 385 HP. AC.
---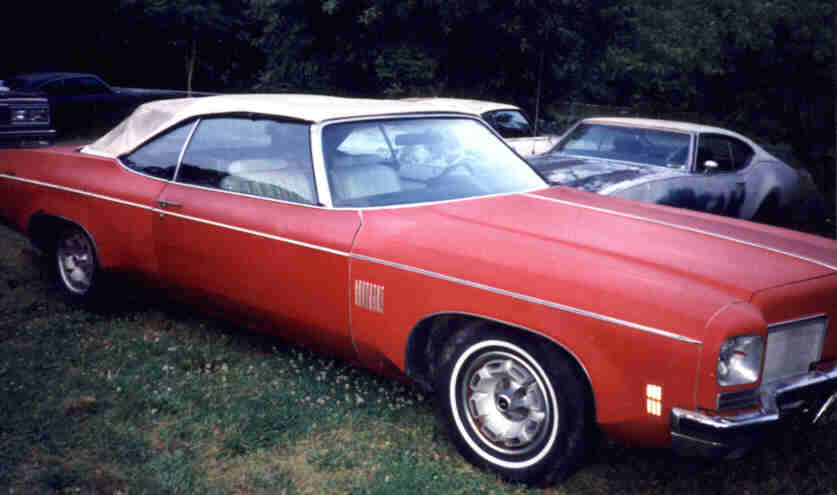 1972 Oldsmobile Delta 88 Royale Convertible. Pimp Mobile! Matador Red, white top and interior. 455 4V, factory dual exhaust and super-rare 15x6 SSIV wheels. 1 of 3900 Delta 88 convertibles for '72.
---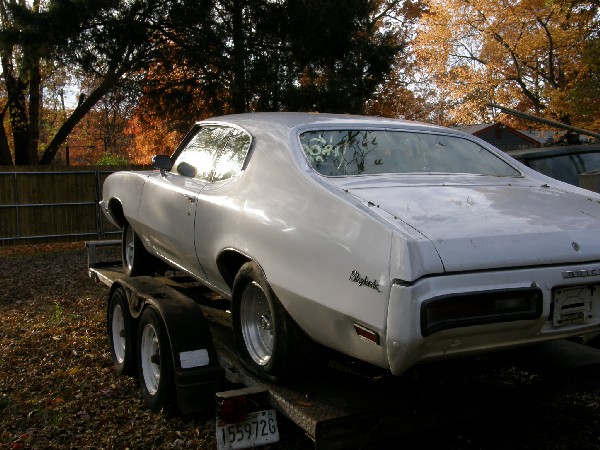 1972 Buick Skylark. Just purchased Dec 07. Originally a 350 car, it had a Buick 455 and TH400 swapped in. A spun rod bearing injured it and now the motor is out. In the meantime I might install a spare 454 Chevy I have.
---
1968 Ford Fairlane 500 Station Wagon. Originally 302 / C4, it's now 351W /FMX. I swapped the horrible manual drums brakes to front discs from a 70 Torino. Still has 3.00 gears in the 8" rear. Dad bought it new.
---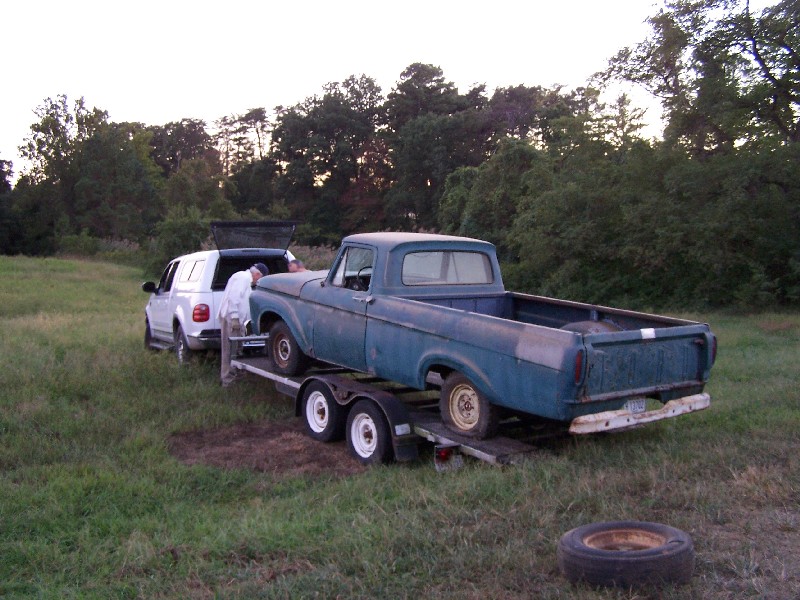 1961 Ford F-100 "Unibody" LWB pickup. From 1961 to 1963 some Ford shortbed and longbed pickups were made with the cab and bed as one integral piece. They called it a Unibody but there is still a separate frame under the body. It looked good but wasn't practical because a big load could make the whole truck sag and pinch the door openings over time. Also the do-it-yourself field replacement of a damaged bed was impossible. This truck has the 223 straight 6 motor and 3 on the tree manual transmission. No PS or PB. This truck is so basic it doesnt't have a door lock in the driver's door and has no passenger visor! Armrests? Forget it. 3.70 gears in the 9" rear. Straight I beam front axle.
---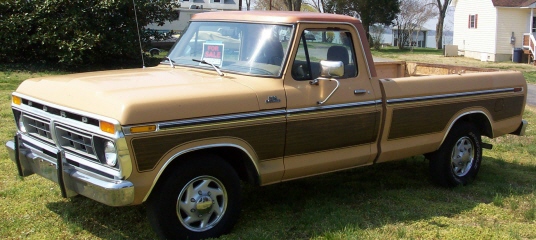 1976 Ford F-150 "Ranger" standard cab LWB (8' bed 133" wheelbase) pickup. Trailer Special Package with extra leaves in the back spring that contact special frame brackets when loaded. Dual battery option. 460 and C6. 9" rear with 2.75 gears. Factory original tan paint and yes , that's original woodgrain stickers on the sides. Mods include early heads, Headers and duals, Comp 268 cam, Performer intake and 770 Holley carb with electric choke.
---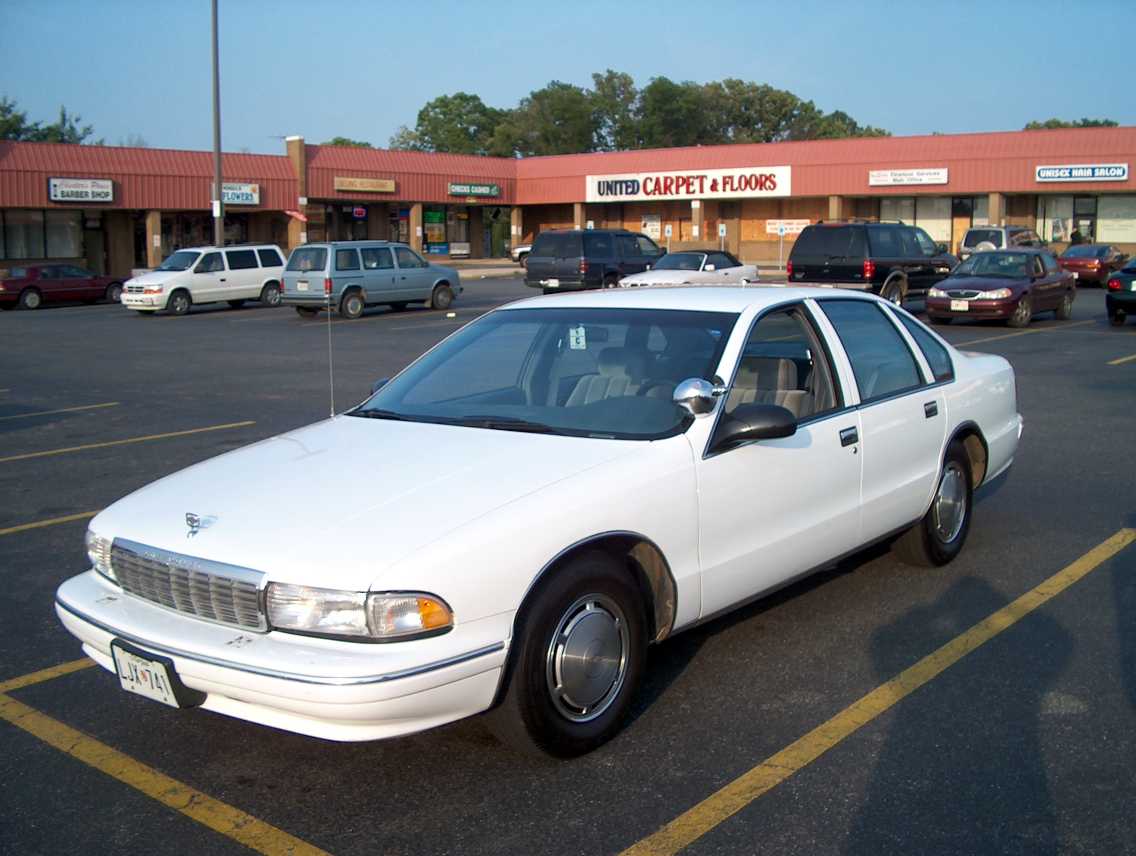 1995 Chevrolet Caprice 9C1 LT1. 9C1 means Police Package! Has the 260 HP LT1 350, dual exhaust, special suspension, heavier frame, 4 wheel disc brakes, special wheels, front fabric bucket seats, vinyl back seat, rubber floor mats, and more! This car was a marked unit for Mongomery County, Maryland is its first life.
---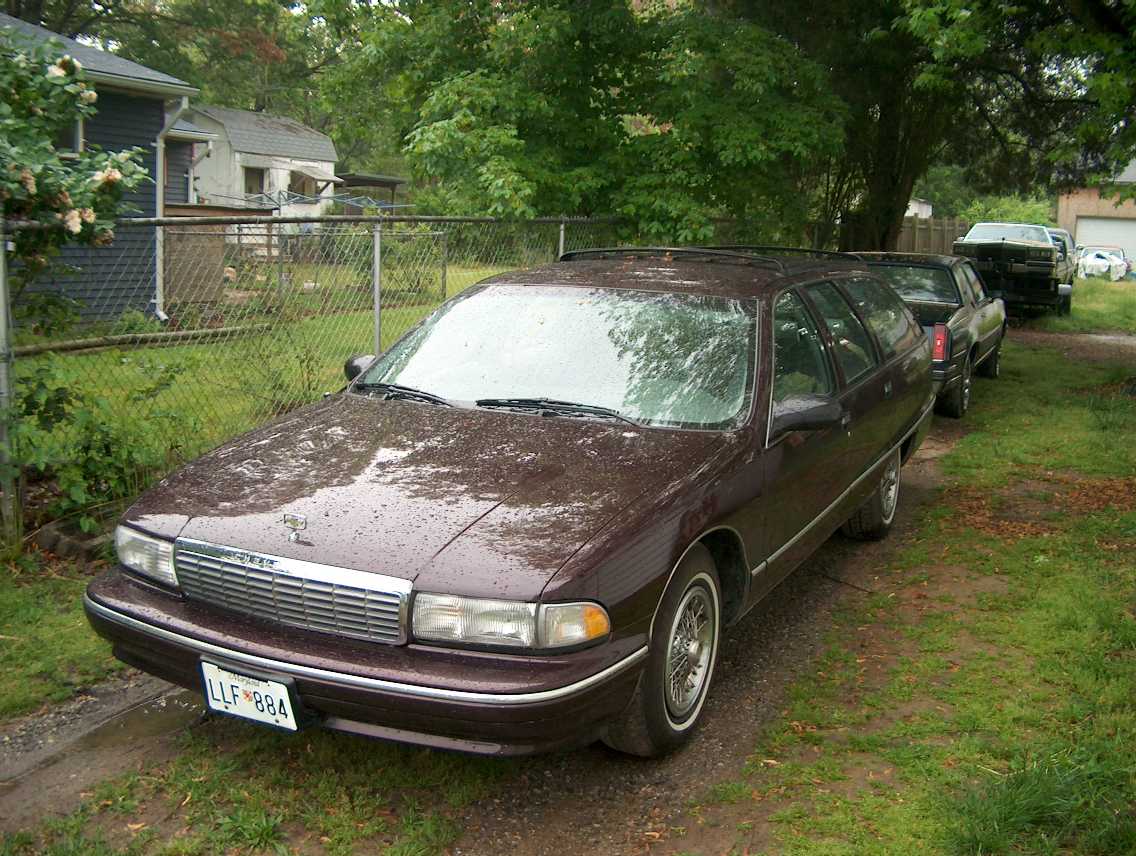 1995 Chevrolet Caprice Classic Station Wagon. All the GM full size wagons from 1994 to 1996 have the LT1 motor and duals! Just the thing for getting to the soccer games on time while getting 20-23 MPG. (1986 Cutlass and 1985 Caddy Fleetwood in the background, both are now gone)
---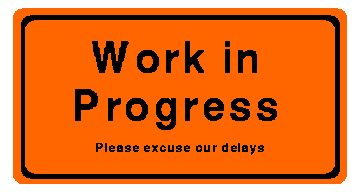 2000 Ford Excursion. King of the SUVs, it has a wheelbase 6" longer than a Chevrolet Suburban. Has the gas V10 and is up to the task of towing anything I have.
---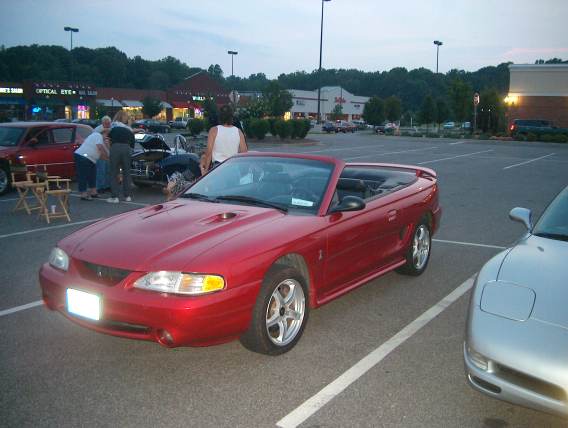 1998 Ford Mustang SVT Cobra convertible. While regular Mustang GTs had the 2 cam 4.6 V8, Cobras got the 4 cam 305 HP version and all were 5 speed manuals. Limited production. Laser Red with black leather interior, Mach 460 Stereo wuth CD. In stock shape with just a K&N air filter, I ran a 14.06 at 99.7 MPH 1/4 mile. Crazy 6700 RPM redline.
---

Fans have visited


(Future)Page 2 >